Carry You
When I brought you home, I carried you.
I held you close and made a promise that day.
As I breathed in that sweet, soft, clean smell,
I promised to carry you, and keep you safe and well.
I laughed and spoke so quietly to you
I taught you your name. You showed me your heart
And I showed you mine, as I carried you that day
When I take you home, I'll carry you.
I'll hold you close, as I promised that day.
I'll breathe in that old familiar smell,
and keep my promise to keep you safe and well.
I'll cry as I speak so quietly to you.
I'll say your name. You'll show me your heart.
And I will lose mine, when I carry you, that day.
by Walt Zientek
For Dian, Carol, Sue, and Jim…
This poem was dedicated to myself and three other people when we all lost dear Labs close to the same time.  To say that I am honored is an understatement Walt's works have appeared in lab-related publications on three continents and in the book, Labrador Tales.
"ASHES TO ASHES" – OUR THOUGHTS
Blue Knight Rebel With A Cause  (Major Pointed)
Click for Pedigree
11 years
10/18/07 – 10/23/18
AKA "Sweet Baby James",  fit his nickname. James was our gentle giant. He could look intimidating, but he never so much as lifted a hair in the presence of other dogs. He was playful and silly, and careful with babies. He loved to swim…to the point where it got scary. He wouldn't stop, even when exhausted. James was nearly a clone of his father with respect to temperament.  He was shown sparingly because of Dan's and my physical setbacks (many orthopedic surgeries between us). James' favorite thing to do was collect fuzzy toys, and put them all in a "nest" and lay in his nest with them.
His parents were CH. Blue Knight's Highland  Rebel X Butterfield's Blue Bonnet  He was bred and owned by us and Gary and Nancy Plotkin.
Goodnight you moonlight ladies
Rockabye sweet baby James
Deep greens and blues are the colors I choose
Won't you let me go down in my dreams
And rockabye sweet baby James
_______________________________
Draco

3 years
by: grandson, Aaron Cartmill (Draco was owned by Aaron, but was absolutely a member of the family)
Draco was named for a selfish spoiled character from a book. In reality he was only one of those things. We spoiled him rotten, but he wasn't selfish. He was the exact opposite. His life goal was to make everyone happy and he would do it at any cost. He would walk into a room and just hop into someone's lap give them a big sloppy kiss. if someone was unhappy or sad it was his personal mission to turn their frown upside down. To tell you the truth he never had to try very hard. His presence just brought joy and silliness to every room.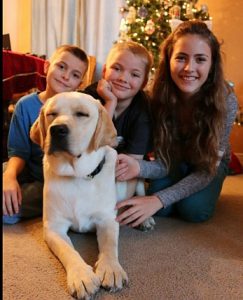 Loved and mourned by his family and his cat, Draco, the lover of bacon, cheese burgers, and Krispy Kreme, left us far too soon. The empty spot in our lives and home will be hard to fill.
_______________________________
Blue Knight's Special EFX (Ch. Pointed) "Lucas"
Click for pedigree

12 1/2 years 10/4/2004 – 5/4/2017
We knew he'd follow his father, Tank, in short order. They were always together, playmates always.
He made many pretty puppies, but mostly he was just Lucas, the sweet, easy, boy, who was quite simply a part of our hearts and lives.  I know you needed to be with your dad, but from well to gone in just five months was so hard to experience.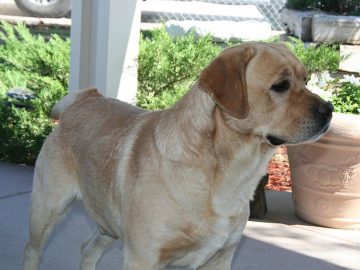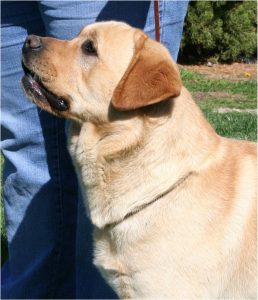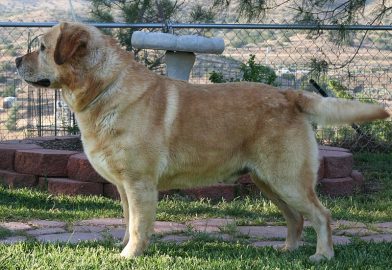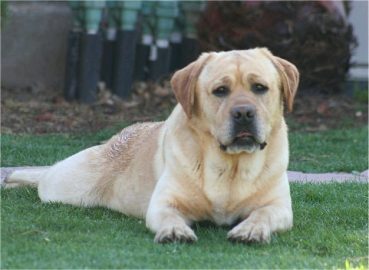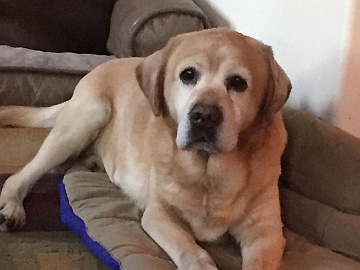 _______________________________
MBISS CH. Blue Knight INXS "Tank"
13 1/2 years. 2/6/03 – 12/27/16
Our Hearts are broken.
The original gentle giant.  He played with our grandchildren, and he played with every litter we had after his birth.  He was so tender with babies.  He showed beautifully here in the U.S. and showed for six months in Korea, where he left a number of children.   Sire of Ch. and pointed get.  Tank was our dream dog.  There will never be another like him.
We had always wanted to name a puppy INXS, but that name required a very special puppy.  The moment he was born, we knew he was the one.
Tank, we miss you more than we could ever express.  You took a huge part of us with you.
11-11-2006 – Judge: Kendall Herr Best Of Breed at the first HDLRC of CA Specialty
11-12-2006 – Judge: Mrs. Susan E. Huntzinger  Best Of Breed HDLRC of CA Specialty
1/7/07 Judge: Mrs. Winnie Limbourne Best Of Breed KC of Palm Springs.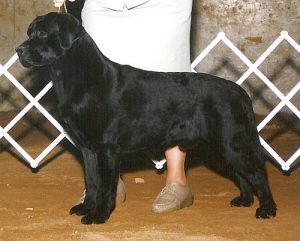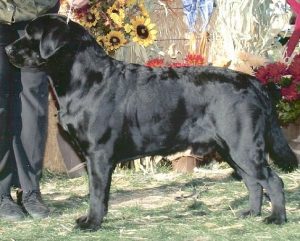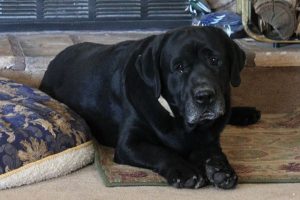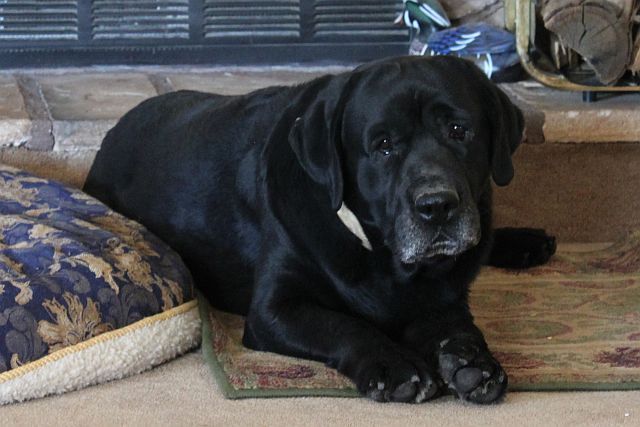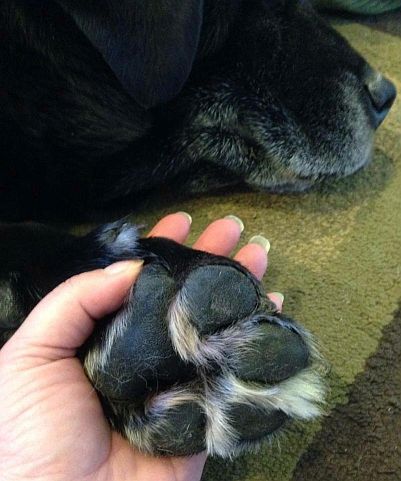 _______________________________
14 1/2    1999 – 2014
Mother to BISS Ch. Blue Knight INXS, and several pointed and CH. grandchildren.
Flo was as sweet a dog as anyone could ever find.  She and Topaz were kennelmates their entire lives.  Old age cataracts took her sight at almost 14, and she was nearly completely blind by the time she died.  She used Topaz as her guide dog, walking closely next to her to find her way.  Topaz never let her down.  Between Topaz' expert guidance, and the use of a "Thunder Shirt",  Flo could walk without fear.  I knew with the loss of Flo, that we'd lose Topaz soon after.  Sadly I was right.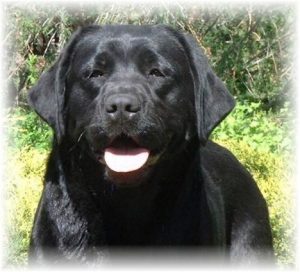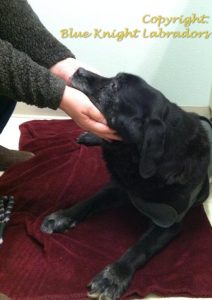 ---
10 years.  2/6/2003 -5/3/2013
Bounce got her name, because as a baby, she would explode out of the kennel, and take you out at the knees! She grew up to be the sweetest, calmest, dog we have had the pleasure to love. She was the only girl in the litter, and was the ugliest puppy I have ever kept (sorry, Bounce, but that was true). I kept her, because of her pedigree, and because my friend and mentor in dogs told me I would be sorry if I placed her. Bounce had two litters. Her daughter (Blue Knight Fiddle Dee Dee) was a Specialty winning bitch (Dee had to be spayed when she had her only litter). Thankfully, we have Bounce's granddaughter, Miley.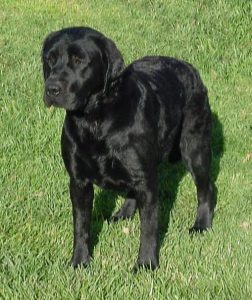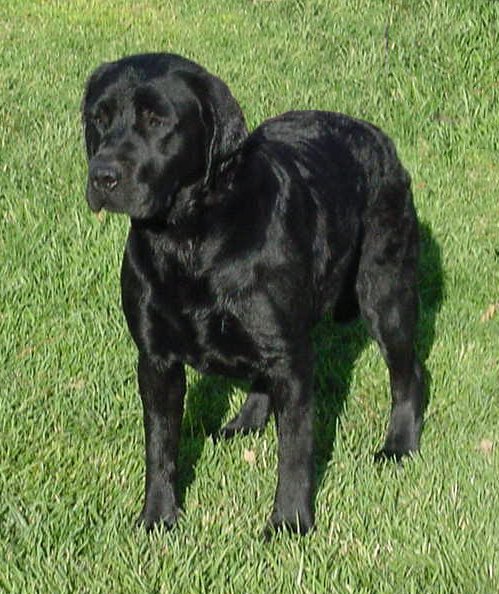 ---
Blue Knight Shooting Star  "Shine"
Just short of 9 years of age  8/23/2002 – 8/8/2011
Shine was just one of the special ones.  There is no better way to put it.  She loved us, completely. Multiple massive disc compressions severed communication with all four legs. She came into this world, delivered into my hands, and left in my arms.  We're not supposed to have favorites.  She was a favorite.  We had many special moments together.   Shine, we will miss you forever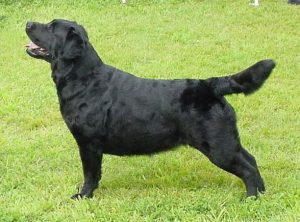 ---
Blue Knight Sun Sign "Sunny"
(Ch. Pointed – one point shy of finishing)   DOB: 11/22/02 – 2014
"Sunny"   ~ happily helped to raise another three grandkids
Ch. Blue Knight Classic Slapshott x Blue Knight What's My Sign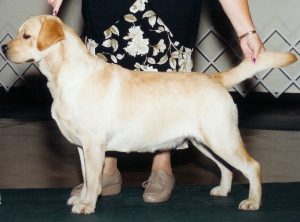 ---
Blue Knight What's My Sign "Topaz"
14 1/2years    12/1/99 – 20014
Click for pedigree
INT/AM/LUX/DUTCH Ch. Raintree Slippery When Wet JH CGC  x  Blue Knight Solar Eclipse
Topaz was one of those silent heroes.  She was a constant companion to our girl Flo and at the end of Flo's life, Topaz became Flo's comfort and seeing-eye-dog, when old age cataracts took Flo's sight.  She patiently walked slowly and right by Flo's side to be sure Flo was okay.  Topaz never limped a day in her life, she was healthy, and an easy keeper.  She was a wonderful mother to her own, and to other litters.  We knew when we lost Flo, that Topaz would follow her closely, as they simply had never been apart.  We were right.  Topaz died months after Flo, never having shown signs of illness, until cancer made itself apparent literally in her last days.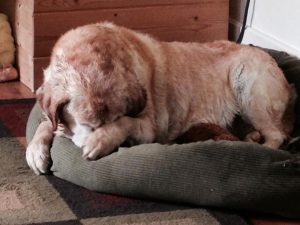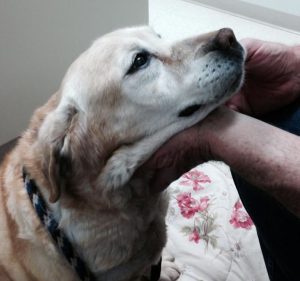 ---
12 1/2 years.    10-4-98 – 6-3-2011
Ch. Blue Knight Classic Genesis x Blue Knight Solar Eclipse
Wicca spent many years helping to raise three of our grandkids.  Cara, Aaron & Bryan were well loved by her, and miss her very much.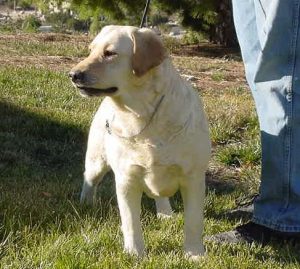 ---
Blue Knight Jasmine "JASMINE"


8 YEARS OF AGE

Jasmine was a beautiful, happy, obedient, eager to please, silly girl.  Cancer took her from us far too early.  Jazz, you'll be missed.  Your cheerful nature gave life to the kennel.  The other dogs will appreciate not having their toys constantly stolen and taken away from them, but your absence will leave a void in their life too.   Jasmine left us with a daughter and granddaughter neither of whom are as ball crazy as she was, but the loving temperament came through on both.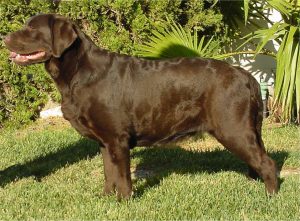 ---
12 1/2 Years of age.
Casey was a gift to us from a friend.  He was nearly a clone of his father, Ben, who we adored.  He sired many litters, to include guide dogs and two other assistance dogs.   The one constant in his litters was the temperament he imparted. He kept the spot in front of our fireplace occupied at all times! He and one of our grandsons had an amazing relationship.  If a photo is worth a thousand words, then we have volumes to demonstrate  Casey's temperament and impact on our family.  He loved our Grandson Aaron, and the feeling was mutual.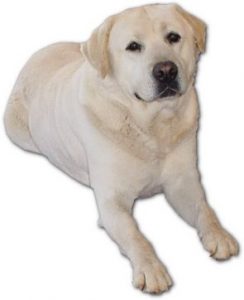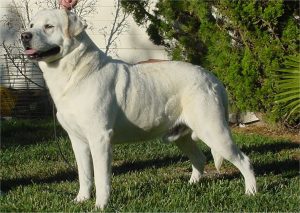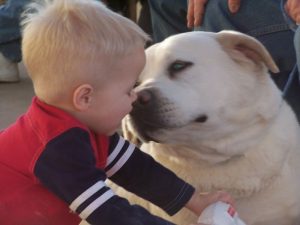 ---
Blue Knight Leap Of Faith ("Faith")


13 1/2 years.

Faith was "retired" very young.  She had severe bilateral Hip Dysplasia, so she was spayed and never bred.  She managed, as you can see… pictured at 11 years.  She was gentle, sweet, and never EVER missed an opportunity to dig a hole.  Her favorite "bad girl" thing to do was tear up stuffed animals.  She didn't just rip them, she murdered them.  🙂   Faith hardly had a gray hair at 13.  She loved life, and never complained about her pain.  She'd manage to run around as best she could with the other old ladies in the 'pack'.   Sleep sloftly, sweet girl!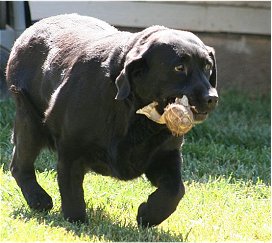 ---
Blue Knight Morning Star (Shimmer)  10 years
and  Blue Knight Cassiopeia (Cassie) 5 1/2 mos.
These two will always be shown here together.  May 1, 2008 is our hardest day as Labrador fanciers/lovers since we started in 1980.  We lost a grandmother and granddaughter within minutes of each other, crossing over together, of totally unrelated medical emergencies.  A big part of our past and much of our future were gone in minutes.  Shimmer stopped eating, and had an appointment to go to the vet.  She didn't look good.  Just prior to leaving for the vet, Cassie started vomiting, and looked very ill and bloated.  She was rushed to the vet with her grandmother.  She was found to have a severe gastric dilation/volvolus (Gastric Torsion), went into severe shock in route to the vet. and died as a result of this devastating gastric condition.  Necropsy confirmed the condition.  Neither we nor the vet have ever seen this condition in a puppy.  We can't make sense of it, let alone begin to accept it.  Shimmer was found to have a liver tumor, and Within minutes two very special girls left us completely in shock, dismay and sorrow.  These two sweet gentle girls both died too young, but the loss of Cassie at only 5 mos. is almost more than we can bear.   Cassie had gone reserve to her brother's Best Puppy award just weeks ago.  Last night, she ate, was playing, and in no distress.  Morning found her in shock.  Gentle Shimmer must have needed to go with her granddaughter to the other side.  That's the only way we can make sense of this day.  May 1st will always be known as the day we lost our hearts.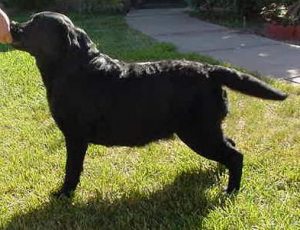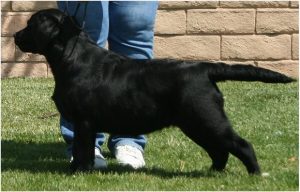 ---
Blue Knight Evening Star ("Wish")
13 1/2
Click for pedigree
The matriarch of our canine family for many years, and was well known for being our "fireplace dog".  She always had her nest of babies (stuffed animals) in front of her as she slept soundly in her place of honor in the house.  We wrote an article about her litter (Thankful For The Labrador ) which told the story of her *two* mothers.   She left wonderful footprints here.  Wish will be greatly missed by family and friends.  Her legacy continues through her children, grandchildren, great grandchildren, and great-great grandchildren here at Blue Knight.  She contributed much, and was greatly loved.   Her bed by the fireplace has looked very empty following her passing.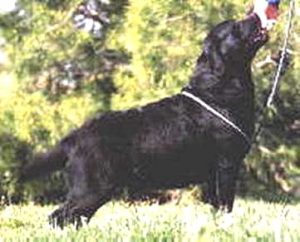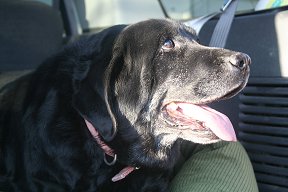 ---
Britannia Blue Knight Brie ("Brie")
(9 1/2)
Daughter or our first AM/CAN Ch., Mother of our second home-bred Ch. Brie was a pushy girl, who always wanted it her way (whatever "it" was). She was the grand lady of the kennel. Brie, we'll miss you dearly.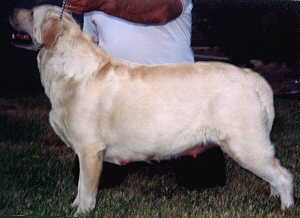 ---
Blue Knight Sweet Sensation ("Candy")
(10)
Always sweet, never naughty. We will miss seeing you asleep in front of the fireplace. You didn't follow Adam by long.   Sleep softly, sleep warm.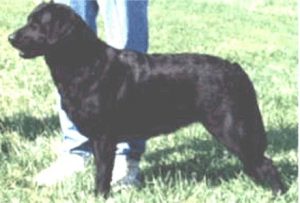 ---
We lost him at 12 years of age.
Our first Male Champion became a CH in both the U.S. and Canada. He was as sweet as his father, "Even" (Campbellcroft's Even Steven CD JH) There are no words to express this loss. He was a great friend and a great dog.  His favorite thing in life was to sleep on Dan's side of the bed, head on Dan's pillow, under the blankets.  He will be missed more than words can say. Adam, you live on through the legacy of your children and grandchildren. My grandchildren will always remember your gentle kisses and the use of your body as their own personal pillow.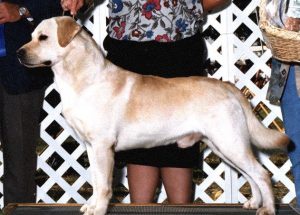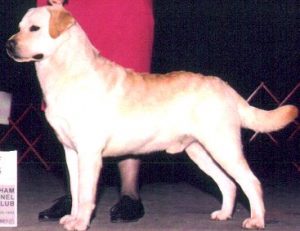 ---
Wingmaster's Hallelujah Lass ("Hailey")


(10 1/2)

(7 Points toward her Ch. and never finished.)
Hailey had hard beginnings. She was a gift to me, after I assited another breeder, who brought home three very sick puppies… Hailey one of them. They had Parvo, tested postive for cocci, Corona and worms. We took care of them here..with a LOT of help from my vet. 24hrs/day four of us sweat over them, establishing IV's as they infiltrated, giving meds, and keeping them warm and clean. We lost the boy…the girls lived. Hailey never left us. She donated blood for years to be spun down so that her high titer for parvo could be used to save the lives of other puppies with the disease. She was a wonderful mother to her four litters. She is greatly missed.
---
Ch. Donally Blu-knight Sugarkane C.G.C. "Sugar"


(12 1/2 years)

We lost Sugar just shy of her 13th birthday. Words can not express the sadness we feel with her loss. She slept with our son as a child, and then slept with his daughter. She was a major part of our life. She will remain alive on these pages forever. She goes without Mandy, her best friend. We're sure Sugar will wait for Mandy.Boldcrest Catch The Wind C.D. W.C. ("Mandy")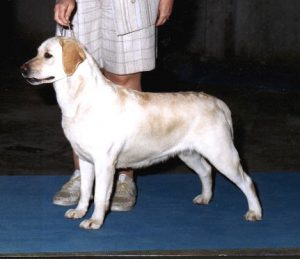 ---
Boldcrest Catch The Wind C.D. W.C. ("Mandy")


(12 1/2)

My Husband's hunting buddy…. or at least unitl she retired. Mandy is on the left, shown with her best friend, Sugar.  Mandy was the original little "Peter Pan "~She never grew up. She has left us with the most beautiful legacy…her children, grandchildren, and great-grandchildren.  Every bitch in our kennel go back to Mandy.  Her influence can still be seen, especially in the black girls in th kennel. Goodbye silly/sweet girl. You and Sugar weren't apart for very long!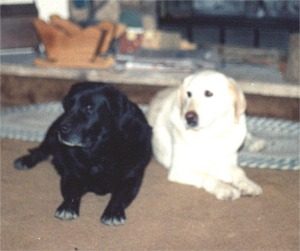 ---
Blue Knight Serenade (Sarah)
9 Years
We'll miss her "songs". There is no doubt she's still singing in the canine angel choir. Sarah, because of you, we found out how fast Jason could run!
---
Boldcrest Blue Knight Babe (Babe)


12  Years

Our stubborn, wonderful girl. Babe, you taught us tolerance. You were a wonderful mother, and an outstanding surrogate mother for Hailey and her sister.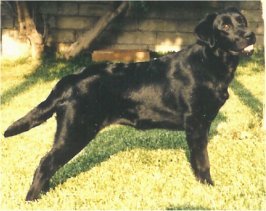 ---
Pookie, Rescue Golden Retriever.


15 years

A piece of us died with him! We still laugh at so many wonderful "Pookie Stories"
---
Ma Cher D'or (Cher)
[13 years]
Our teacher.   Cher, you brought us into this breed. You loved us, and you loved an other family who needed you more than we did. You saved them from a fire, you saved them from a burglar, and oh yes… least we forget you saved them from that possum you carried to the door. You were all about family!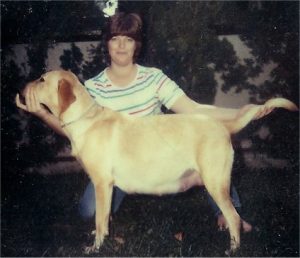 ---
Miette Petit D'or (Mia)
[Kidney Failure 3 years]
We tried so hard didn't we, Mia?
Our first litter. Daughter of Cher.
---
Suntory's Highland Rebel (Sunny)- Gordon Setter
9 years
Our first dog after we were married!! We still think of him often.
---
Historical Blue Knight Pedigrees
---