Blue Knight Morning Star (Shimmer)  10 years
and  Blue Knight Cassiopeia (Cassie) 5 1/2 mos.
These two will always be shown here together.  May 1, 2008 is our hardest day as Labrador fanciers/lovers since we started in 1980.  We lost a grandmother and granddaughter within minutes of each other, crossing over together, of totally unrelated medical emergencies.  A big part of our past and much of our future were gone in minutes.  Shimmer stopped eating, and had an appointment to go to the vet.  She didn't look good.  Just prior to leaving for the vet, Cassie started vomiting, and looked very ill and bloated.  She was rushed to the vet with her grandmother.  She was found to have a severe gastric dilation/volvolus (Gastric Torsion), went into severe shock in route to the vet. and died as a result of this devastating gastric condition.  Necropsy confirmed the condition.  Neither we nor the vet have ever seen this condition in a puppy.  We can't make sense of it, let alone begin to accept it.  Shimmer was found to have a liver tumor, and Within minutes two very special girls left us completely in shock, dismay and sorrow.  These two sweet gentle girls both died too young, but the loss of Cassie at only 5 mos. is almost more than we can bear.   Cassie had gone reserve to her brother's Best Puppy award just weeks ago.  Last night, she ate, was playing, and in no distress.  Morning found her in shock.  Gentle Shimmer must have needed to go with her granddaughter to the other side.  That's the only way we can make sense of this day.  May 1st will always be known as the day we lost our hearts.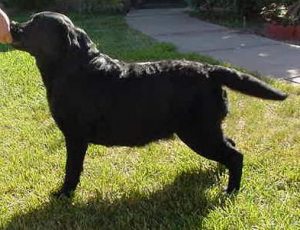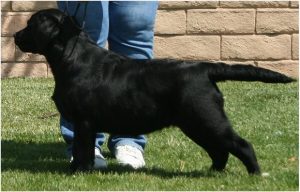 Shimmer Left, Cassie Right
Shimmer:
OFA hips/elbows – eyes clear yearly
[verify OFA – click here]DOB 4/19/98
Shimmer's pedigree
__________________________________________________________________________________________________________________________________________
CASSIE:
Cassie's Sire: Blue Knight Black Label (Ch. Pointed)
Gender: Dog
Color: Black
Reg. Number: SR46450201
Date of Birth: 11/16/2007
Call Name: J.D.
Breeder: Dian and Daniel A. Welle
Owner: Dian and Daniel A. Welle
Her Dam: Blue Knight Shooting Star
Gender: Bitch
Color: Black
Reg. Number: SN92883201
Date of Birth: 8/23/2002
Call Name: Shine
Breeder: Dian S. Welle and Daniel A. Welle
Owner: Dian S. Welle and Daniel A. Welle