Welcome to Blue Knight
We hope you enjoy the changes to our website. We left the most important links in the same location for ease of access, but you may find we re-arranged a bit, so have a look around, and feel free to give us feedback.  We hope you enjoy the frequently changing banner at the top of the page.  It will change with the seasons, and the holidays.
Since about 1981, we have served on the Board of two Labrador clubs in Southern California, holding nearly every office and committee that one can hold in a dog club.  We were founding members of the HDLRC.  We're now in Priest River Idaho. Our next move will be to join a club or two in the North West!   We started in Labradors in 1980. We love the Labrador Breed, and hope to enjoy the company of Labs forever. We had a licensed kennel in California, and have moved to Idaho to retire, which works well, as many of our dogs are retirement age like us.  We do have young dogs, we still dabble in showing.  We enjoy the babies most of all.  We have all three colors accepted in the Labrador Retriever Standard (Black, Yellow and Chocolate).  If you're looking to enjoy some photos of Labs, or if you're trying to learn about the breed, we hope we have provided what you're looking for, and that you enjoy browsing the site.  This site is intended to help people learn about the breed. We believe the Labrador Retriever is one of the best all-around dogs available.  We can't imagine our lives without them. We are, and always will be, actively involved in the promotion and protection of the Labrador Retriever.  Showing our dogs gives us a lot of pleasure!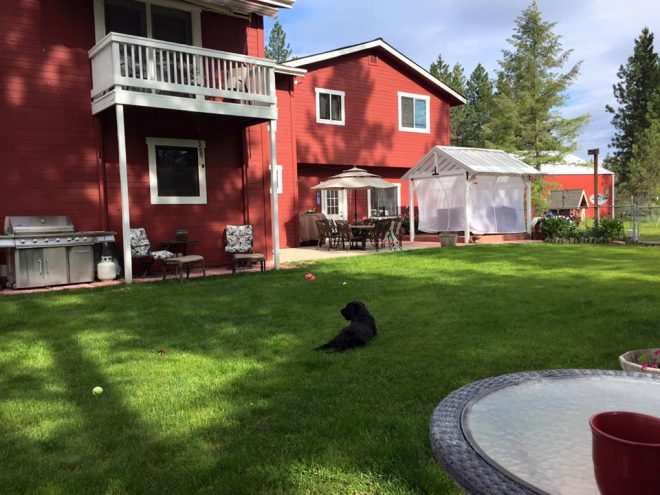 As you can see, it can get cold in North Idaho, so our kennel has two electric heaters, and a large wood burning stove to keep the dogs warm.  There are three paddocks for the dogs to run in, they each have an indoor 6×6 kennel which opens to a 6×12 kennel, which can be opened out to the paddocks.   Our puppies have always been born and are raised to an appropriate age in the house.  The dogs also rotate into the house two to three at a time.
The kennel in winter