AM/CAN CH. Blue Knight's Classic Genesis
5/21/1990 – 6/14/2002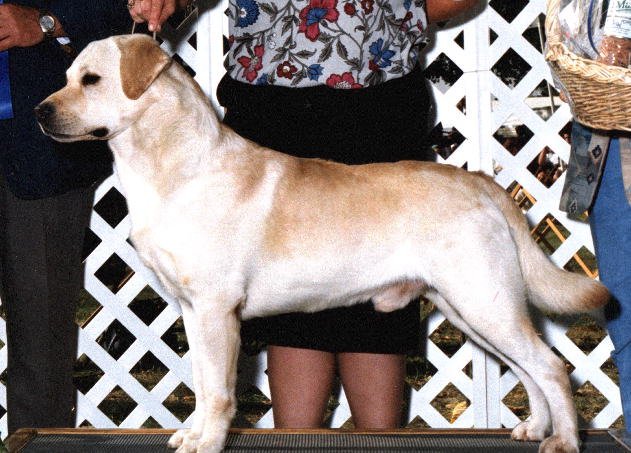 OFA Hips-excellent Elbows-normal, Eyes ACVO Annually
[Verify OFA – click here]
Our first Male Champion became a CH in both the U.S. and Canada. He was as sweet as his father, "Even" (Campbellcroft's Even Steven CD JH) There are no words to express this loss. He was a great friend and a great dog. His favorite thing in life was to sleep on Dan's side of the bed, head on Dan's pillow, under the blankets. He will be missed more than words can say. Adam, you live on through the legacy of your children and grandchildren. My grandchildren will always remember your gentle kisses and the use of your body as their own personal pillow.
Adam was, as his name implied, our first male intended for show and eventual stud service. He was everything we dreamed he would be. Mostly, he was just "our Adam". He was gentle and a pet to our kids and grandkids. He was shown exclusively in the expert hands of Ellen Cottingham. He loved her, and whenever he heard her call out "Adam Ant!!" he was excited and looking for her.
Adam's most interesting moment came in (our out of) the obedience ring. Adam had a habit of accompishing very quick breedings. You had to be careful, because he would tie a girl in a hot second. On the way one day to the obedience ring, he walked past a girl in season at the show. He immediately spotted her, and did a double-take that warned us of what was to come. He visually marked the spot of her location and when Dan and he were in the obedience ring, during the long down exercise, Adam took off — headed in a full run to that girl. We yelled at the owner to grab her fanny — quick! Luckly she did, as he was on her in a moment, intent on providing her owner with a free stud service. Dan was pretty embarrassed that day!
Adam loved:
Showing
His girls (they were ALL *his* girls
My our kids and grandkids
Sitting in front of the firepace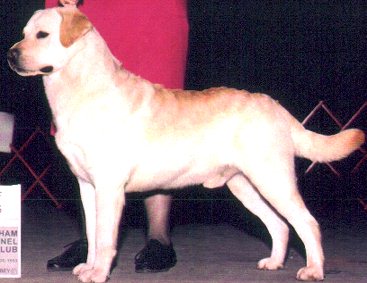 Ch. Ballyduff Marketeer
			Ch. Jaynourt Ajoco Justice	
				Ch. Jayncourt Star Performer
		Ch. Anderscroft Mijan's Bravo
				Ch. Mijans Corrigan	
			Ch. Lockerbie Mijans Britannia	
				Ch. Lockerbie Cinda Samantha
	Campbellcroft Even Stephen WC JH CGC
				Ch. Lockerbie Brian Boru WC	
			Am/Can Ch. Campbellcroft's Angus CD WC
				Ch. Campbellcroft's Pede CD WC
		Ch. Breton Gate Cairngorm CD WC JH
				Am/Can Ch. Ribbon Ridge Boomerrang CDX WC
			Ch. Breton Gate Omega Boom
				Ribbon Ridge Kikiriki CD WC
					
AM/CAN CH. Blue Knight's Classic Genesis   
AKC#  SGO10369  OFA# LR45761E24M-T /LR-EL454-T  
ACVO - yearly    
D.O.B. = May 21, 90   
Yellow
				Ch. Sandylands Mark
			Eng/Am Ch.  Strinesdale Old Spice
				Sh. Ch. Strinesdale Bianca
		Ch. Strinesdale Black Rod
				Ch. Ballyduff Marketeer
			Roywood Remark
				Sandylands Charlotte	
	Classic's Bianca
				Lawnwood's Fandango	
			Lawnwood's Midnight Folly	
				Lawnwood's Starglow
		Chyrose Midnight Frolic
				Jimjoy Playboy	
			Midnight Lady of Chyrose
				Lizcourt Lucy