This makes me furious! We spend endless hours making sure our breed is improved and protected, we spend more money than you want to consider, doing health clearances, so that we minimize or eliminate the chances a puppy will suffer in their lifetime, justifying a cost, and people without care, beyond that of the almighty dollar, bastardizes our established breeds.
Do you have a "hybrid" that you love? Good for you for loving your dog! You are not "the problem". It's breeder is!
Hybrid. Because hybrid sounds cool. Because hybrid doesn't sound like mutt, or mongrel, or… just simply mixed-breed. Hybrids are typically produced through human manipulation to produce something uniquely different, like mules (horse and donkey combo), ligers (lions and tigers), or plant hybrids. True hybrids are often sterile, as they're from differing species, and lack chromosomes that compliment each other. The animal shelters are filled with mix-breed dogs. Save yourself $2000 and get one, because typically, that's what the shelters are filled with.
Please, bear with me and get through the following:
The Labrador Retriever has been the #1 popular breed in the U.S. for 26 years running for a reason – they're smart (but not so smart as to out think you), athletic (without being athletic to the extreme) family and other animal friendly. The Lab is a versatile dog, who is as happy to be a couch potato, as they are working in the field. A Lab is strong (emphasis on strong), athletic and muscular. They're usually larger boned, and weigh more than they look. Labradors have a coat with two layers to keep him warm, dry and comfortable, but it sheds a lot. They are known for destructive behavior such as chewing furniture and woodwork or digging up the yard. They are a gentleman's dog. Content to be a pet at night, and hunt in the day. Health issues include canine hip dysplasia (CHD), and osteochondritis dissecans (OCD), which is canine elbow and shoulder dysplasia. They also occasionally suffer from distichiasis, exercise-induced collapse, diabetes, muscular dystrophy, tricuspid valve dysplasia, and entropion. Many of these are discoverable now through DNA testing, and affected dogs are never bred.
Pointers (for this example, the German Shorthaired Pointer) are very active dogs, who belong with an equally athletic owner who will take him running, biking, or hiking. Did I emphasize active enough? A walk around the block is not even a warm-up for a GSP. Some can be aggressive with strange dogs, and some are determined chasers of cats and other fleeing creatures, often with deadly intent. They are tautly-muscled, and *extremely* athletic. They're finer boned than the Lab, and lithe. They are known for "separation anxiety" (destructiveness and barking) when left alone too much. They are hunting machines, who can be one so fixed on the hunt that no recall can get their attention.
Their known health issues (which are bred against by reputable breeders include gastric torsion, hypothyroidism, canine hip dysplasia (CHD), Osteochondrosis Dissecans (OCD), von Willebrand's Disease (vWD), entropion, and pannus, and major issues such as lymphedema, and occasionally cardiomyopathy, ectropion, and progressive retinal atrophy (PRA). Again, their breeders do DNA testing, and affected dogs are never bred.
Imagine if you will, the finer bony structure of a Pointer, with the heavy musculature of a Labrador, causing bone and joint pounding. A bone/muscle mismatch. A dog with a downy undercoat, but the extremely short top coat of a Pointer, setting the dog up for freezing in cold water, and a knotted mess of endlessly shedding fur, on a dog who is very oral and full of anxiety over being left alone for the day, mixed with a dash of heavy-muscled hyperactivity that wants to be friends with other dogs , but has a sudden urge to fight, without the innate caution of a Pointer on the approach of another dog. Confused. Now add all of the breed genetic problem propensities, most doubled up, because no genetic testing is done by these "hybrid" breeders, and then add to that different medical problems known to those distinct breeds, which now combine into one poor dog.
Will all of the breed traits combine in every puppy to create a genetic nightmare from head to toe? No, but I promise that some will, and all will have some piece of it.
I love my breed. Reputable Pointer breeders love theirs. Each of us does the best we can to breed the best our breed has to offer, and know how to work with the more difficult traits each breed has. Specifically, we have the advantage of being able to best select homes for our puppies, so that owner and dog are happy.
Please don't be duped into thinking that the breeders of these mixed dogs have done their due diligence, and have many years of application (in my case, 38 years).
You get what you pay for, and yes, there is a sucker born every minute!
BTW, the people who took this add out want $1800 for their mix-breed puppies. Go to the pound! There are lots of mix-bred dogs waiting for homes.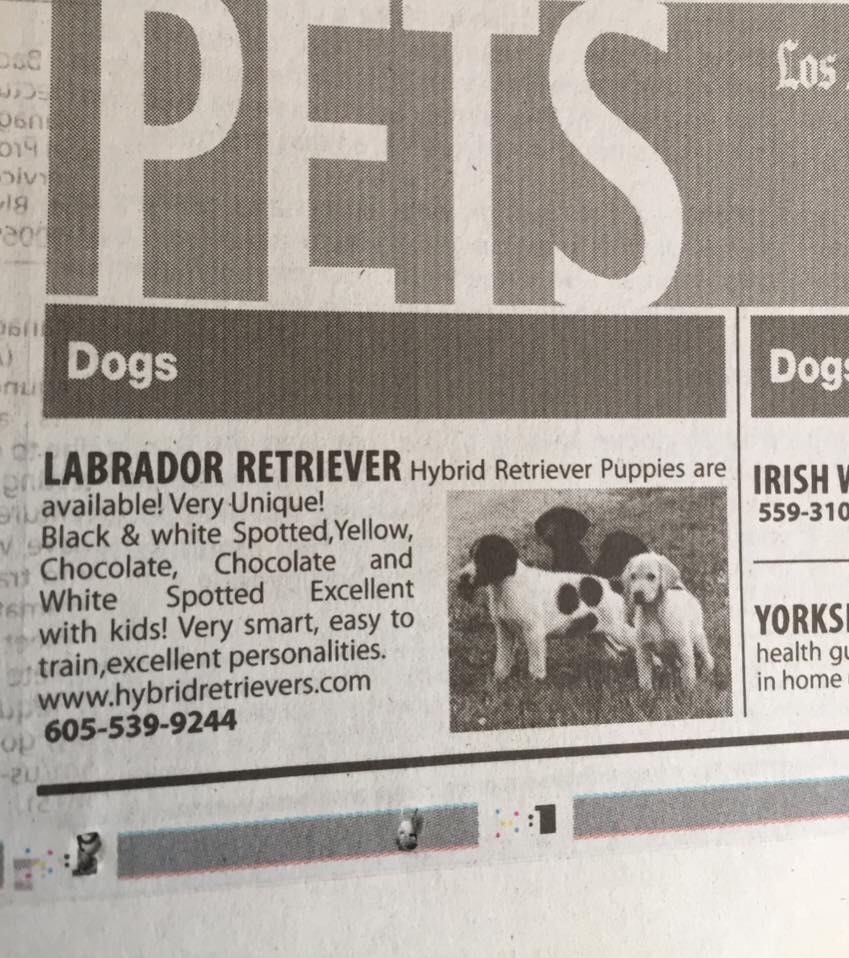 LEGAL STUFF
Website Built by Blue Knight. All graphics , photographs, and original articles are the property of Blue Knight.  Permission must be obtained for use on other sites or for other purposes.