Many of these images go back to 2005, I am an incurable documentation junkie. Each birth is different, and all of them just a little scary for any breeder, regardless of experience. Things can, and do, go wrong. If you make the choice to breed a bitch, you owe her and her puppies a great deal. You owe it the puppies the right to be born only to parents who have had the necessary genetic clearances. You owe her the right to whelp her puppies in a safe environment, under constant observation. You owe all of them the right to get good medical care when they need it, regardless of cost. Find out the estimated cost of an emergency c-section on a Sunday night in a Vet Emergency Clinic, and save that amount over and above all previous breeding expenses. If you can not do this, then wait to breed your bitch!
Images of puppies being born to Blue Knight Bouncing Betty "Bounce" on 11/2005: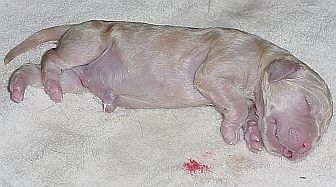 The following Word Document is the actual birth record from the litter shown in the images above. It may download directly into your computer and open WORD if your settings are set to handle .doc files in that manner.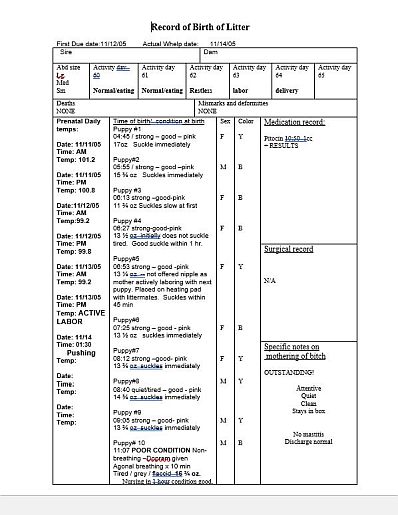 DELIVERY VIDEOS:
click on video image to start video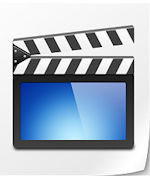 This puppy appeared stillborn initially, (non-breathing and no palpable pulse – white tongue) – revived after a few minutes of resuscitation (probably 2-3 full minutes). She's still gaspy and grunting in this video. This video shows her after we revived her, and I am being rough intentionally, as she needed to cry out those wet lungs. She remained quite irritable for awhile after giving her back to mom, still grunting a bit, but did fine after mom fussed with her awhile. Latched on and nursed normally after about 30 min, and did great.