Nov. 5, 2015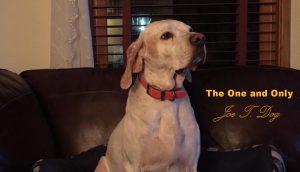 As you can see, he doesn't look like the other dogs here.  That's because Joe is a Pointer, and Joe has a story.
Dan's life-long friend, Bill, died in a motorcycle accident.  He and Dan knew each other from early childhood, and stayed in contact.  Bill's beloved English Pointers were his pride and joy.  They were highly trained upland game dogs.  When we went to be with Bill's family, they immediately asked us if we would take Bill's three dogs.  We already had ten Labradors, and there was no way we could take on three dogs.  …and then they announced that a "rescue" had agreed to take them.   What rescue?  Many rescues are wonderful, but a few are simply folks with a desire to "save" dogs, and amount to little more than dog collectors. None of them ever leave the home of such "rescues".  The family could not recall the name of the rescue, "she's a lady who loves and saves dogs".  No!!  I asked if I could please be responsible for rehoming the dogs to good homes with proper vetting.  They responded in the affirmative.  So, we went to meet them.  Two of the dogs, a 12 1/2 year old female and 6 year old male were moaning, shaking and crying on Bill's bed, as family members disassembled Bill's home and tried to clear out his belongings.  The third, a 7 year old female, was in a dogloo, growling at the other dogs and the strangers in the home.  All three were suffering from confusion and absolute grief over the chaos in the home, and their "dad" being gone.   It took a full day to find all the paperwork on the dogs, and I called the breeder of the younger two.  He wanted nothing to do with it.  So, I made a few well-placed posts on Facebook, and a flood of aid started to come in.  Pointer enthusiasts are wonderful, and love their breed. They spoke my language, and we all set about making sure that the dogs ended up in a family/hunting environment.   Immediately, Bill's girlfriend stepped up to take the old girl, allowing her to live her remaining years with someone she knew.   Within two days, I got a call from a guy who wanted the older bitch, and his friend who wanted the male.  I went into vetting mode.  Both would be good homes.  We agreed on the female, but I could not agree to placing Joe.  Joe wasn't eating or drinking.  Joe was moaning, crying, and not making eye contact.  He was shaking.  He was in deep grief.  I could not agree to home this dog, until he pulled out of his grief. He had already been passed from family members to us, and we couldn't justify confusing him further.  We brought Joe home, until we could work through his physical and emotional needs.  For seven days, Joe refused to eat or drink, and did little more than rock and moan.  I took him to the vet during that week, and he told me "this is a Pointer, not a Lab. They're more sensitive."  My numerous new Pointer friends advised me likewise. So, we waited him out, and slowly he began to eat, drink and interact.  He immediately began to attach to my husband.  You could see the expression of panic on Joe's face if Dan was out of the room for a long time.  I started to see the writing on the wall.  Two weeks in, we told the gentleman who was willing to take him, that Joe would be staying with us.
Dan quickly found out that Joe knows more about upland game hunting than most people know.  Joe is funny, a quick learner, stubborn, has hysterical facial expressions, oh, and Joe is not amused by Labradors. He tolerates them, but he's not happy about their fast, clumsy, body-slamming exuberance.
This is Joe and Dan, the day we told Joe he'd be staying. I think you'll agree, that Joe understood, and was pleased.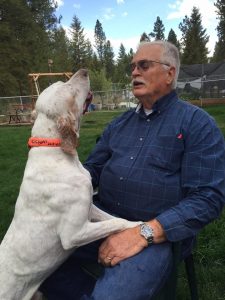 Joe has his own Facebook page, so that he can explain himself properly. He thinks that since the Labs have their own page, he deserves one too: https://www.facebook.com/blueknightpointer/