We received a update photo this week on Blue Knight In Hot Pursuit At Alibi (Chase) at 5.5 months. He is owned by Julie Oghigian (Montview Labradors) and Kim Jacobson (Alibi Labradors).  We're excited to see how this boy performs in the ring.  Best wishes to Julie, Kim, and Chase.
Multi-BISS GCH Laurglen Ardent Rogue at HySpire JH RN CGC
X
Blue Knight Perfect Storm  (CH. Pointed)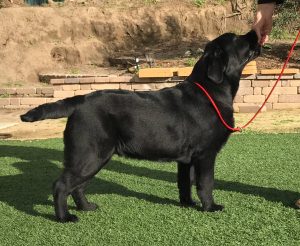 Chase is a black who carries chocolate.