AKA – Xanax. I'll take two, thank you!.
With luck, we're leaving in the morning for a dog show.  Last minute issues could prevent us from leaving.  We'll be driving from Idaho to San Diego, California.  What does it take to show a dog?   Initially training a dog to stack for examination is a good place to start, but our weather has been very bad, and with 4 feet of snow on the ground, there has been little place to train.  So, I am praying.
Entries made for Rumble, Mariah, and Dahlia.  Why them?  Rumble is easy to show.  She could do this dog show thing without me on the other end of the lead, and I love showing her.  Mariah is two now, and it's time to get out there and see what she can do.  She has never set foot in a show ring before.  And then there is baby Dahlia.  Why her and not her sister?  Well, good question.  I did not want to take two babies, hoping someone could show one for me, and right now, I think Dahlia has the best topline of the two, but Rose has the best head.  I just decided to pick Dahlia.   Three is enough!
What's involved?
Making entries – Fill out the entry form for the girls, with the pertinent information, select the classes they will go in, and pay the entry fee: $200
Examine and bathe the dogs.  That was fun… Dahlia had never had a bath or blow-dry.   it was a mildly traumatic event.
Pack

Three hard crates for travel
Three soft crates for ringside
exercise pens
food for three dogs
bowls for three dogs
toys for three dogs
show leashes and collars/ travel leashes and collars
blow dryer
brushes
show clothes
show shoes
casual after-show and travel wear
canopy
chairs
towels
rain gear and muck boots
This looks a lot like our truck once we're packed <grin>:

.,and now, today, the day before we leave,  the change filter light came on the truck after dealerships have closed.  We really don't want to do four days driving with a filter alert.  I wonder if Dan can get it fixed. <sigh>
I will add to this fun-filled trip as we go..
---
2/15/17 – 11:30am  Day  1
with a ten hour drive ahead of us, the girls are finally packed, and a ton of gear loaded.  There is hardly room for the two of us humans in the car.   Driving conditions here in Idaho are ice, ice and more ice, so we're slowly sliding out of town!   We hear we'll be getting 2.5″ of rain in one day at the show grounds.  Dog shows are never cancelled for rain!
———
Potty stop #1  Dalhia has no idea what we want her to do.  It is pouring rain of course!  "Go potty" means nothing to her (yet).  She'll learn!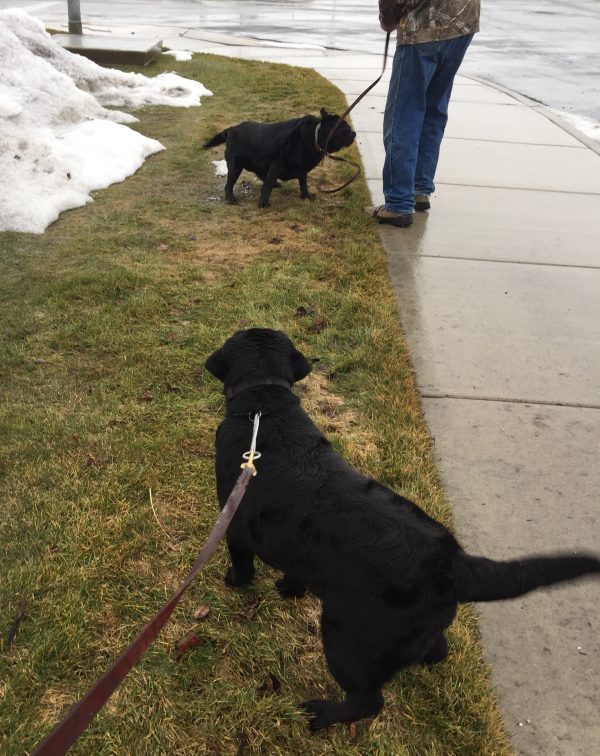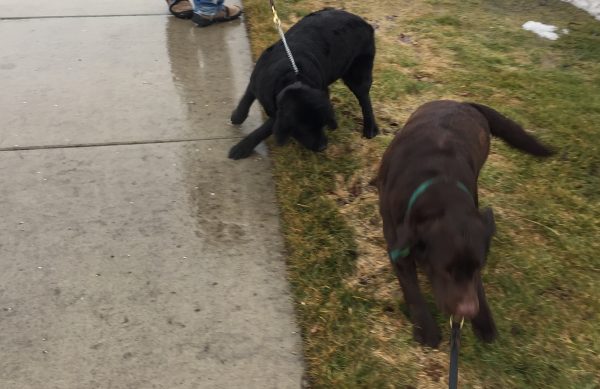 6:00pm:
Dahlia finally got the idea on this potty stop!  Success!   ONWARD.  We're hoping to make it beyond Shasta.
—–
11:30 Klamath Falls, OR.
Done for the day.  A successful end to day 1.  Dahlia's first experience in a hotel room.  She's doing well on her first trip!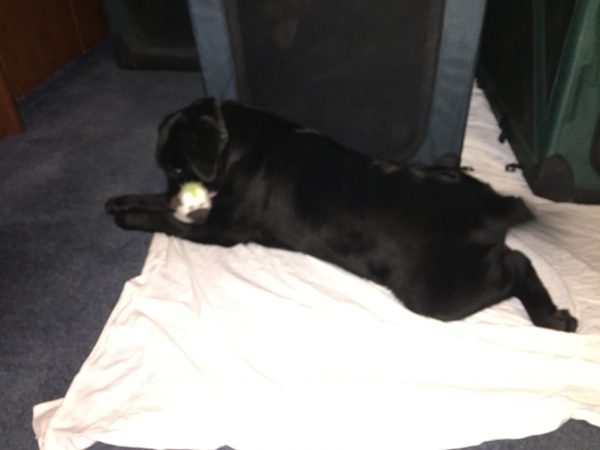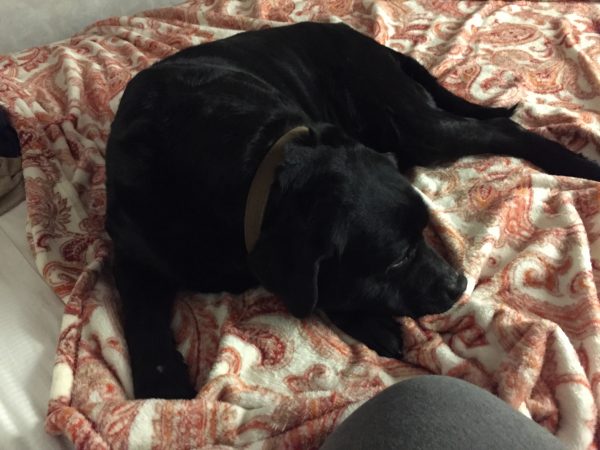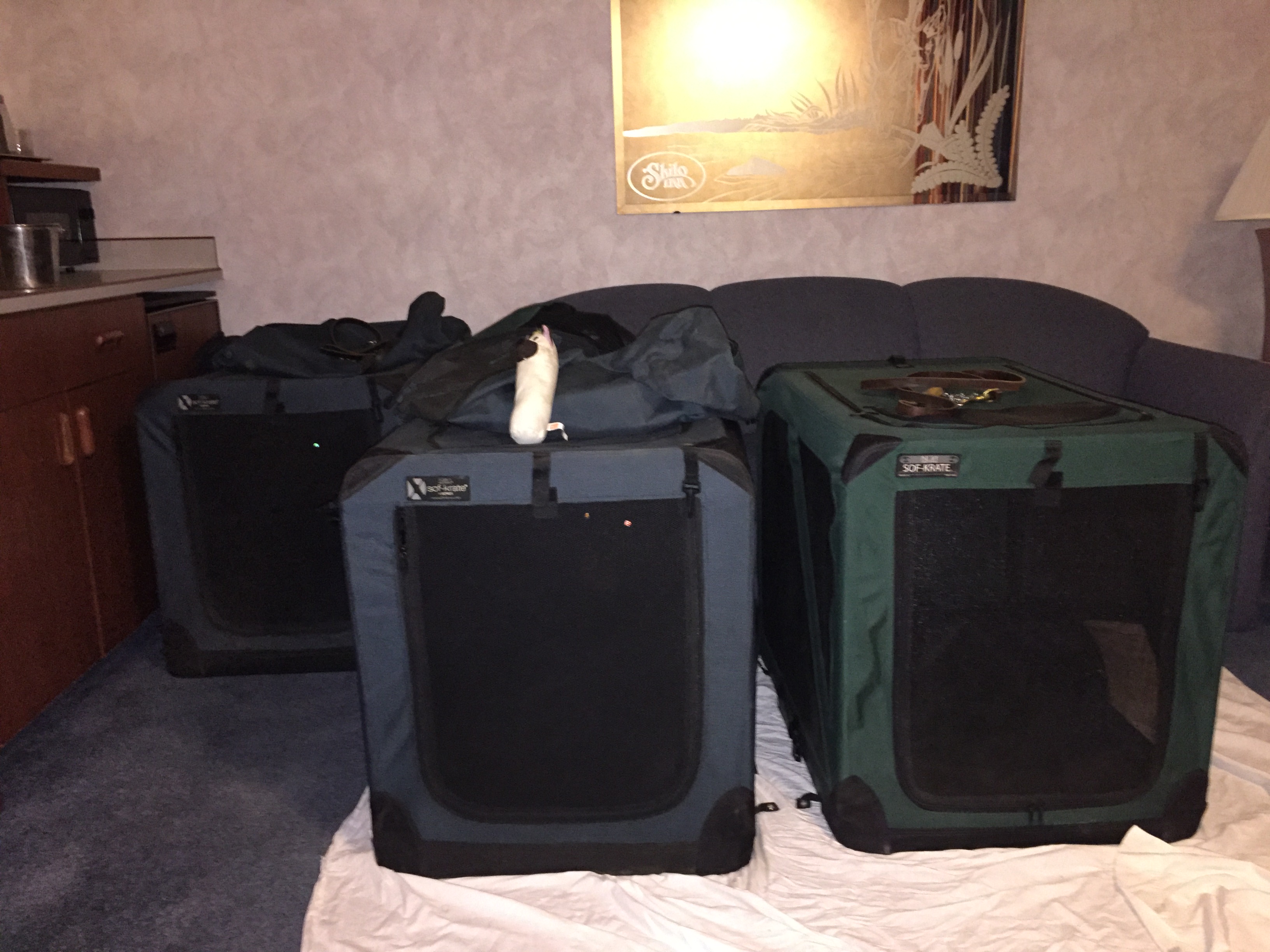 Lights out!  G'night all…